Russia confirms death rate rose by quarter in heatwave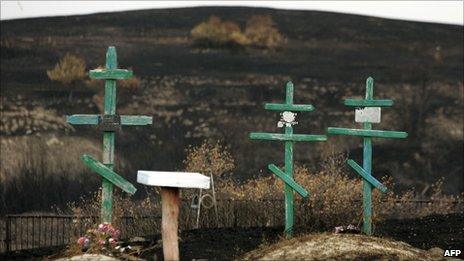 Russia's death rate rose by more than a quarter during August's heatwave and forest fire crisis, official data show.
According to the state statistics office, 41,262 more people died than during the same month of 2009.
The highest rise in mortality was recorded in Moscow and other regions badly affected by the heat such as Samara and Voronezh.
Reports of an alarming rise in the death rate back in August were slapped down by the Kremlin.
But the data published on the state statistics office's website show that 191,951 people died across Russia in August 2010, compared to 150,689 in August 2009.
In the city of Moscow, 15,016 people died compared to 8,905 the previous year.
Russian demographer Sergei Zakharov told the BBC's Russian service that no data was available on causes of death but he accepted that "the intense heat and smog [from burning peat bogs] could have led to a rise in the death rate".
Asked why there had been no appreciable rise in the mortality rate in July, despite that month's equally scorching temperatures, he suggested that the extreme weather had taken time wear down its victims.
There was much anger among the Russian public over the authorities' handling of the heat crisis, amid suspicion that the Kremlin was trying to play down its full extent.
In early August, Russia media reported that doctors in Moscow were being told not to diagnose heatstroke as a cause of death.
One doctor was quoted as saying the unofficial instruction being passed down was to use diagnoses that sounded "less frightening".
Related Internet Links
The BBC is not responsible for the content of external sites.