EU visa-free travel in sight for Albanians and Bosnians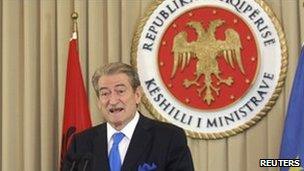 Members of the European parliament have backed visa-free travel for visitors from Albania and Bosnia ahead of a final decision in November.
The two states hope to join the EU within a decade but failure to enact reforms has dogged their bids.
To qualify for visa-free travel, they must prove they can tackle illegal immigration and trafficking.
France is believed to oppose the move but would be unable to block it on its own.
Drug-trafficking routes from Asia into Europe pass through both Albania and Bosnia. Other Balkan states obtained EU visa-free travel rights last year.
Albanian Prime Minister Sali Berisha welcomed Thursday's vote, saying he was optimistic that EU ministers would endorse it next month.
To become law, it will have to be approved by a qualified majority - or 255 votes out of 345 (74.8%) - at the EU's Council of Ministers in November.
Apart from France, which has stated concerns about opening up EU borders even further, the Netherlands and Denmark are said to be hostile towards the move, according to the EU information website Euractiv.
Related Internet Links
The BBC is not responsible for the content of external sites.