Eyewitness: Anti-gay riots in Belgrade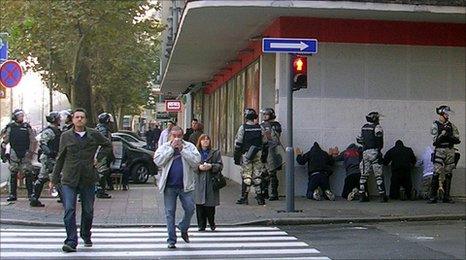 Serbian police have clashed with protesters trying to disrupt a Gay Pride parade in the capital, Belgrade.
Police used tear gas against the rioters, who threw petrol bombs and stones at armed officers and tried to break through a security cordon. This was the first Gay Pride parade in Serbia since a march in 2001 was broken up in violent clashes provoked by far-right extremists.
Helena Popovich witnessed some of the scuffles around the city centre:
"It is very sad to see young people doing things like this"
I wanted to join the march to give my support but we were stopped by the police who were blocking the centre to protect the parade.
The police did a great job and there were no problems there - but I don't think they did so well at protecting the city itself.
We started to wander around and found that small groups of protesters were smashing the windows of shops and demolishing the city centre.
I think the protesters were very well organised. They moved in small groups and were scattered around the city.
This meant that you would go from total war on one street to total peace and calm on the next one.
Most of the protesters I saw were very young and most were football fans.
It is very sad to see young people doing things like this, they have nothing better to do.
It also saddens me that the Gay Parade wasn't so free and that it had to be very limited because of the protest.