EU renews drive for common patent system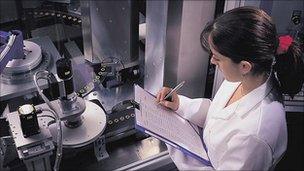 EU ministers are struggling to get unanimous agreement on an EU-wide patent system aimed at drastically cutting costs for European businesses.
The EU's Competitiveness Council is considering a European Commission proposal to simplify patents in the EU.
But some member states are unhappy about the plan to have three official languages for registering patents - English, French and German.
Translation costs make patents in the EU much more expensive than US patents.
It costs firms an average of 20,000 euros to get a patent validated in 13 EU member states - more than 10 times the cost of a US patent, the Commission says.
The EU has been wrangling over plans for an EU-wide patent since August 2000, when the Commission first called for a regulation to settle the matter.
Belgium, as current holder of the six-month rotating EU presidency, aims to get a deal on patents this year.
Last December EU ministers agreed on most aspects of a patent system, including a new patent court in Europe, but the translation issue remains a sticking point.
The European Patent Office (EPO) in Munich currently grants patents in the three official languages. The EPO acts on behalf of the 27 EU member states and 10 other European countries.
But the entrepreneur then has to get the invention validated separately by patent authorities in some or all of the EU member states - paying a fee each time.
Under the Commission proposal, the applicant would first file for registration in any language and the patent would be granted in one of the three official EPO languages.
The applicant would have to provide translations into the other two official languages - but only for the section of the patent that defines the scope of the invention. It would then be valid throughout the EU.
However, Italy and Spain are reported to be sceptical about the Commission plan, fearing it would give an unfair advantage to patent applicants from the UK, France or Germany.
An English-only option has been suggested, but the Commission says that would create problems for those used to filing applications in French or German under the EPO system.
Nearly half of the EPO's European applicants last year filed for patents in French and German.
Germany filed the most applications to the EPO last year - 25,107, followed by France (8,929), the Netherlands (6,738) and the UK (4,821).
Related Internet Links
The BBC is not responsible for the content of external sites.