Tanker and container ship collide off Netherlands coast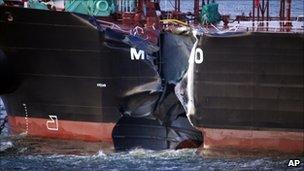 A Greek tanker transporting kerosene and a Cypriot container ship have collided off the Dutch coast.
The Greek ship started leaking kerosene into the North Sea, but the spillage was quickly staunched.
The collision happened some 30km (19 miles) from the port of Scheveningen. It is not clear what caused it.
No-one was injured in the incident, but an oil dispersion ship and rescue vessels are on their way to the site as a precaution.
The tanker, the Mindoro, was reported to have a crew of 25 people. Twelve people were on board the Cypriot ship, the Jork Ranger.
Peter Verbrug, a spokesman for the Dutch coastguard, told AFP that the leak was rapidly stopped and the remaining kerosene in the damaged tank was being pumped into another tank.
"The kerosene which escaped evaporated very quickly, it was hardly in contact with the water," he said.
The kerosene posed no public health risk, was evaporating rapidly and was not expected to reach the shoreline, according to another coastguard spokesperson quoted by Reuters.
The Cypriot vessel was returning to the port of Rotterdam but was not seriously damaged in the collision.