Germany's charged immigration debate
By Stephen Evans
BBC News, Berlin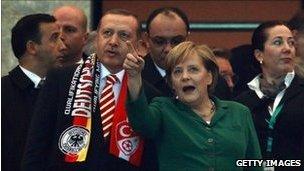 When German Chancellor Angela Merkel sat beside Recep Tayyip Erdogan as their two countries played each other at football earlier in the month, nothing could have seemed friendlier.
The Turkish prime minister's scarf even combined the colours of both teams, integrated nicely in the fabric. Like our two peoples in the fabric of society, it seemed to say.
It is clearly not an image which Mrs Merkel finds convincing.
For her, the idea of the two cultures melding amicably has not happened.
This type of "multikulti" (as German sceptics call it disparagingly) has "utterly failed", as she put it in a speech on Saturday.
But the headline does not tell the whole story.
She added a softening caveat: "We should not be a country either which gives the impression to the outside world that those who don't speak German immediately or who were not raised speaking German are not welcome here. That would do great damage to our country.
"Companies will go elsewhere because they won't find the people to work here anymore."
In other words, her basic message is that integration has not worked - but it needs to. And immigrants have to accept that, in particular, they need to learn the language.
This is far short of the harder line of Thilo Sarrazin, a central banker who caused a storm by saying: "A large number of Arabs and Turks have no productive function other than in the fruit and vegetable trade."
Mrs Merkel treads warily because she finds herself in a hard place. There is a strong view among Germans that immigration has harmed the country.
A study by the Friedrich Ebert Foundation indicated that nearly a third of respondents agreed that "foreigners come to abuse the welfare state" and that immigrants might "overrun" the country.
It is a minority - but a growing minority and one that the researchers say crosses party boundaries.
It is not a fringe view, but one that permeates the mainstream - which is, of course, the core of voters.
Mr Sarrazin, for example, is an official at the Bundesbank and a member of the opposition Social Democrats.
And within Mrs Merkel's conservative grouping, Horst Seehofer, the leader in Bavaria, said of integration that it was "obvious that immigrants from different cultures like Turkey and Arab countries, all in all, find it harder".
In the blunter pages of populist newspapers, the image is one of a country being taken over by an alien culture.
Europe's most popular newspaper, Bild, talks of the "insanity" of multiculturalism. It splashes pictures of a block of flats where the landlord insists that tenants conform to sharia law by not letting to anyone who has anything to do with alcohol and pork.
Opinion polls suggest many Germans agree with Bild. A recent one showed 55% thinking that Muslims were a burden on the economy.
There are about four million people of Turkish background in Germany, half of them full citizens.
Part of the difficulty might be in the way they were invited - to work but not to stay. Turkish migration to Germany stems from 31 October, 1961, when a labour recruitment agreement was signed between the two countries.
The agreement was tempered in 1964 when the "rotation clause" whereby workers could only stay for a certain time was ended, partly because German companies did not want to constantly retrain new workers.
But the impression remained that Turks were in Germany on sufferance.
There has been a change in attitudes - but it is hard to say how deep and wide it really goes.
Certainly, the highly successful national football team of players of mixed backgrounds was thought to be transformative - but attitudes on "race" run deep.
There was another image at that game where the Turkish prime minister sported the generous scarf.
When Mesut Ozil, the star of the German side, scored against the land of his heritage, he seemed almost embarrassed.
Born and bred in Germany to a Turkish family, he was not going to gloat. He was not going to rub it in to the half of the 70,000 crowd who supported Turkey.
"It was fantastic for me to score in this match", he said afterwards. "But I made the spontaneous decision not to overdo the celebrations."
Being reticent is acceptable for a footballer who talks with his feet - but for a politician seeking votes, loud talk matters more. Mrs Merkel knows that.
Related Internet Links
The BBC is not responsible for the content of external sites.