Cowen seeks consensus with opposition on economy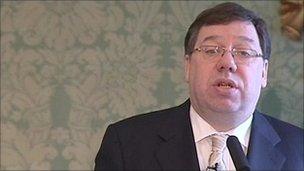 The Irish prime minister has written to the leaders of the main opposition parties inviting them to talks aimed at establishing an economic consensus.
The move by Brian Cowen, leader of the ruling Fianna Fail party, follows a similar invitation from coalition partners, the Green Party, last week.
Earlier comments from Mr Cowen were seen as being cool on the proposal.
Ireland has a massive fiscal deficit and is facing one of the toughest budgets in its history next month.
In a letter on Wednesday, Mr Cowen said he would like to explore the extent to which cross party support could be achieved for measures aimed at putting the public finances on a sustainable footing.
On Wednesday, opposition finance spokesperson, Fine Gael's Michael Noonan, took up a previous offer by the government to meet officials at the Department of Finance.
Related Internet Links
The BBC is not responsible for the content of external sites.