Paddy McKillen loans 'should stay in banks'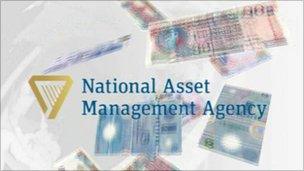 Lawyers for a developer trying to stop the transfer of his bank loans to Nama, have said there is a public interest in allowing them to stay in the banks.
Belfast-born Paddy McKillen is challenging the right of the National Asset Management Agency (Nama) to take over loans made to him.
His senior counsel Shane Murphy said keeping the loans with the banks would help the banks to continue functioning.
He said that Mr McKillen's loans are "performing".
Mr Murphy is responding on behalf of Mr McKillen to submissions made by the state.
The lawyer said Mr McKillen was continuing to make interest repayments on all his loans, no default notices had been issued by the banks and even loans that had expired had been assessed by Nama as performing.
He said there was a public interest in the banks continuing to trade and having the benefit of the 89m euros in interest repayments being made by Mr McKillen and his companies.
Nama was claiming that acquiring the loans was vital, but it recently changed the threshold at which loans would be acquired from 5m euros to 20m euros, meaning that 6.6bn euros of eligible bank loans would now be left in the banks, Mr Murphy said.
He said this showed there could be flexibility.
Mr Murphy said the critical issue in the case was what was in the mind of the decision makers when they decided to acquire Mr McKillen's loans.
Were they authorised to take that decision, he asked, and were fair procedures taken into account?
Related Internet Links
The BBC is not responsible for the content of external sites.