Russia embarks on citizen count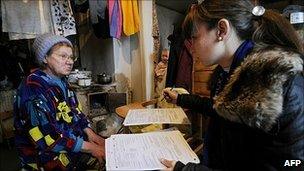 Russia has begun taking a census of its people, sending about 650,000 workers out to visit every home in the country.
Population has been declining in Russia for years - though Prime Minister Vladimir Putin announced last year that the trend had been reversed.
Demographers believe there are now about 140 million people in Russia.
The census has been controversial - criticised by the Orthodox Church and the political opposition, and nearly cancelled because of the cost.
But the government resurrected the plan after announcing it had found the money to proceed.
The government says the data will be used for developing social programmes and budget purposes.
But opposition parties say they fear what the government will do with the information. Some have called for a boycott.
The Orthodox Church was infuriated by the absence in the questionnaire of question on faith.
"They are afraid of knowing the state of religion in our society," said Vladimir Vigilyansky, spokesman for the Russian Patriarch.