Hungary toxic spill plant reopens as villagers return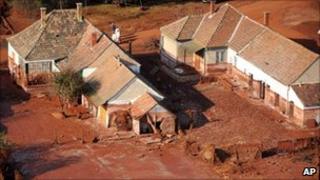 The Hungarian alumina plant which caused a toxic sludge leak has reopened as villagers forced to abandon their houses begin to return home.
Dozens of homes in the western village of Kolontar, the closest to the plant, were made uninhabitable by the sludge.
Nine people died following the 4 October spill that devastated towns and rivers in the west of the country.
Some 30 people were taken to Kolontar from the nearby town of Ajka, where evacuated residents had been staying.
The plant of the Aluminium Production and Trade company (MAL Zrt) restarted its operations on Friday.
The state commissioner - now in charge of MAL Zrt's operations after the government took control of the plant earlier this week - said in a statement: "It will take a maximum four days for the plant to go back to normal operation.
"Next Tuesday, production will be up to full capacity."
The plant will remain under state control for up to two years.
A criminal investigation continues into whether the owners followed safety regulations and whether they knew of warnings that the waste reservoir might collapse.
'On higher ground'
About 150 people were injured after up to 700,000 cubic metres (24.7m cu ft) of toxic by-product from the production of alumina burst from the storage reservoir last week. The residue covered an area of 40 sq km (15.6 sq miles).
Over the past few days, a system of dykes has been constructed to protect Kolontar from a possible second spill.
On Friday, a total of 700 were eventually expected home in the village. They will live on the higher ground, further from the path of the tide of mud from the broken reservoir.
"I was born in Kolontar and I am going to die here, I have never thought about leaving," 84-year-old Ferenc Farkas said as he boarded one of the waiting buses.
But others were less keen to return home.
Police roadblocks remain in place in and around Kolontar, and no journalists are allowed into the village, reports say.
'Scared'
Residents of the nearby town of Devecser, home to some 5,400 people, were also returning to their properties. But many remained wary as winter approaches.
"I do not know what we are going to do, it is getting so cold," 64-year-old Janosne Horvath, whose house was destroyed by the toxic sludge, told AFP.
"We are too scared to stay here overnight. I am actually scared for my life."
Environmental group Greenpeace has criticised the decision to allow people to return, saying it was "irresponsible... because the exact causes of the accident have not yet been determined".
One Hungarian bank has announced that it will put a six-month freeze on mortgage payments from victims of the disaster, according to AFP.
The alumina plant which caused the leak will remain under state control for up to two years.