Russia denounces Georgian visa scheme as 'provocation'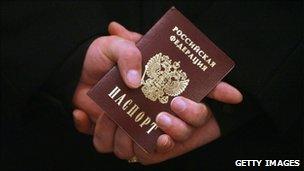 Russia has condemned Georgia's unilateral decision to make it easier for people living in the Russian North Caucasus to travel across its border.
From now on residents of the volatile republics of Chechnya, Ingushetia, Dagestan and four others will not need a visa to travel to Georgia.
The Georgian authorities said the move was to deepen the relationship between the peoples.
But the Russian foreign ministry described it as a provocation.
The only usable land border crossing between Russia and Georgia - at Verkhny Lars, high up in the Caucasus mountains - was re-opened in March for the first time in four years.
It opened up the route to trade, presenting potential business opportunities for people in the republics of the North Caucasus, where war and militant attacks have left around half of the total workforce unemployed.
The BBC's correspondent in the Caucasus, Tom Esslemont, says that by relaxing the visa requirements, the Georgian President Mikhail Saakashvili may be seeking to harness some of that labour by developing his country's tourist industry.
But the Russian foreign ministry has condemned what it calls an "attempt to divide the Russian population into different categories".
Georgia and Russia fought a bitter war in August 2008, and diplomatic relations have not been restored since then.
Related Internet Links
The BBC is not responsible for the content of external sites.