Kosovo set for February parliamentary election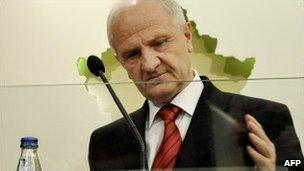 Kosovo's caretaker president, Jakup Krasniqi, has called an early parliamentary election for 13 February.
The vote is meant to resolve a crisis caused by the surprise resignation of President Fatmir Sejdiu last month.
Mr Sejdiu stepped down after a court ruling that he had breached the constitution by remaining the leader of a political party.
The vote will be the first general election since Kosovo declared independence from Serbia in 2008.
The decision is likely to delay for many months EU-sponsored talks with Serbia, which does not recognise Kosovo as an independent country.
The caretaker president said the negotiations could not take place in the current political atmosphere.