Russia 'considering' proposal to join missile shield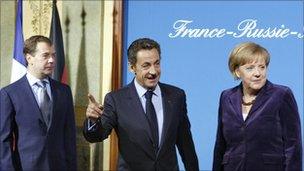 President Dmitry Medvedev has said Russia is considering proposals to co-operate on a US-led missile defence shield in Europe.
But speaking after talks with the French and German leaders, Mr Medvedev stressed the Nato bloc needed to make clear how Russia would be involved.
Moscow had earlier expressed its concerns over the plans to deploy the missile shield in central Europe.
At the talks Mr Medvedev also said he would attend a Nato summit next month.
The Kremlin had held back for several weeks before giving its response to attend the summit in Lisbon on 19 November.
Speaking after the two-day talks in Deauville, northern France, Mr Medvedev revealed that he told French President Nicolas Sarkozy and German Chancellor Angela Merkel that Russia was considering co-operation on the controversial missile defence shield.
"We are now evaluating the idea of this proposal," the Russian leader said.
"But I think that Nato itself needs to understand in what form it sees Russia joining this system, what it will bring, in what manner an agreement can be reached, and how to proceed further.
"Only after examining this proposal will we be able to give an answer as to how we will work further in relation to European missile defence," Mr Medvedev said.
The missile shield is expected to be one of the key issues at the Lisbon summit, where the alliance hopes to unveil its new strategy.
Washington insists that the shield is aimed at fending off threats from rogue states like Iran and is not a threat to Russia.
However, last year the US scrapped a previous missile shield, based in Poland and the Czech Republic, which had infuriated Moscow.
President Barack Obama then said the anti-ballistic missile shield favoured by his predecessor George W Bush would be replaced by a reconfigured system designed to shoot down short and medium-range missiles.
Speaking at Mr Medvedev's side at a news conference after the talks, Mrs Merkel said she was "very happy" that he would be attending the Nato summit.
"We are all in the same boat when it comes to the real threats of the 21st Century," the German chancellor said.
President Sarkozy added: "Germany and France consider Russia a friendly country."
French officials say tensions between Russia and the West have eased over the last couple of years, and they detect a new openness on the part of Moscow, which they want to consolidate, the BBC's Hugh Schofield in Paris reports.
In Deauville, the three leaders also discussed ways of enhancing economic co-operation between the EU and Russia.
However, no breakthrough was announced on easing restrictions for Russians travelling to the EU bloc.
Moscow has been long pressing for visa-free access for its nationals to all the 27 EU members.