Mary Byrne, Queen of Ireland, wows X Factor audiences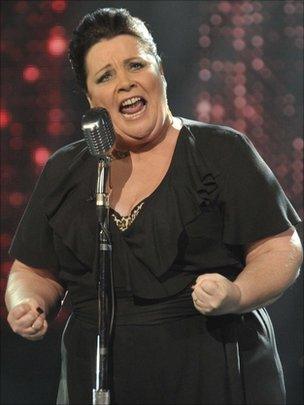 As Mary Byrne from Dublin continues to wow X Factor audiences, BBC News Online's Conor Spackman looks at the latest reality television phenomenon.
The relentless rotation of reality television sustains itself by producing the occasional personality who transcends their talent, or lack of it, to win a place in the nation's affections.
From Jade Goody to Susan Boyle, the common theme is the backing of an audience which feels an instinctive loyalty to the battling underdog.
The latest addition to the reality roll of honour is 50-year-old Dublin shopworker Mary Byrne, who has swapped the beep-beep of the Tesco checkout for the big beats of the current lord of the reality manor, The X Factor.
While undoubtedly in possession of a strong and talented voice, the single mother from the working class district of Ballyfermot is regularly receiving the kind of audience ovations once the preserve of Elvis at the Las Vegas Hilton.
Watching the show, you get the impression that if the audience could raise her on their collective shoulders before crowning her with a laurel wreath, then they would not hesitate.
Her success is based on her having bottled the most potent reality television formula - genuine talent mixed with charming ordinariness.
An article in the Irish Times on Saturday detailed her self-confessed lack of confidence and her battles to win acceptance in an Ireland where being a single mother often resulted in social exclusion.
If this sort of television is meant to serve as a reflection of real life, then Mary is a mirror for those viewers who themselves aspire to break free of their humdrum shackles.
It also highlights the potential pitfalls of prominence - journalists descending on the area she lives to find some dirt to dish.
Finding nothing, they have resorted to romantically linking her to a fellow contestant, pony-tailed Brazilian romeo, Wagner.
The Irish Times has joined other columnists in depicting Mary as the type of competitor who will likely make a deep run but ultimately miss out on victory.
The bookies are not so sure - putting the Dublin diva at third favourite to prevail come the Christmas final.
In the meantime, Mary's aisle has been left empty by employers keen to mark her association with the store.
The smart money says that she will not be back anytime soon.
Related Internet Links
The BBC is not responsible for the content of external sites.