Mass trial of Kurdish activists starts in Turkey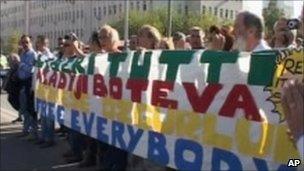 The trial has begun in Turkey of 151 people, including 12 mayors, accused of links to the armed rebel group, the Kurdish Workers' Party (PKK).
They are accused of crimes including membership of an illegal armed group, spreading its propaganda, undermining Turkey's territorial integrity and holding illegal public demonstrations.
Hundreds of supporters gathered outside court for the trial in Diyarbakir.
It is being seen by some as a test of Turkey's democratic credentials.
EU representatives are reportedly monitoring the proceedings in Diyarbakir, the largest city in the Kurdish-dominated south-east of the country.
The courtroom had to be specially built because of the number of those being tried.
They include the mayor of Diyarbakir himself, Osman Baydemir, who has publicly called for Kurdish autonomy.
The PKK has fought a 26-year conflict with the Turkish government, which has claimed more than 40,000 lives.
It has revised previous demands for independence, and now calls for more Kurdish autonomy. It is viewed as a terrorist group not just in Turkey, but by the US and European Union.
Turkish law prescribes severe penalties for giving even vocal support to the PKK, and some of the defendants face possible life sentences.
A leading Kurdish politician, Ahmet Turk, said the trial was "an attempt to to break our will".
Mr Turk had a seat in parliament until Turkey's Constitutional Court banned his Democratic Society Party in December, for alleged links with the PKK.
He told reporters outside the courthouse: "At a time when we are seeking peace, it's unacceptable that our friends are being held in jail for 18 months, only for expressing their thoughts and opinions."
In Monday's hearing, defence lawyers demanded that they be allowed to make their arguments in Kurdish. The judges adjourned the case until the afternoon to rule on the demand.
Analysts say the Turkish government is employing a two-pronged approach to its relations with the Kurds.
In July 2009, Prime Minister Reccep Tayyip Erdogan stepped up attempts to seek a peaceful solution.
Some steps have been taken to improve Kurdish rights, but a tentative peace process with the PKK quickly stalled.
Fighting between the two sides spiralled again this year.
A series of police raids since April 2009 has led to around 1,500 arrests of Kurdish activists, suggesting a renewed determination by the authorities to subdue the Kurdish movement, says the BBC's Jonathan Head in Istanbul.
But there have also been recent talks with neighbouring Syria and Iraq about ending the conflict, and this year some state officials have been negotiating with the jailed PKK leader Abdullah Ocalan.
Kurds make up up to a fifth of the population of Turkey. They have long complained that the Turkish government was trying to destroy their identity and that they suffer from economic disadvantage and human rights violations.
European lawyers and human rights activists are monitoring the trial, which is expected to last for months.
The European Commission releases its report next month on Turkey's progress towards meeting EU membership criteria.
Last year, it criticised the use of anti-terror laws to prosecute people for expressing non-violent opinions on Kurdish issues.
Related Internet Links
The BBC is not responsible for the content of external sites.