Belgium fails to break political deadlock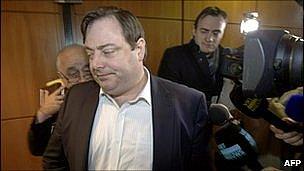 The latest efforts to form a government in Belgium appear to have failed, after coalition proposals were rejected by several parties.
It is more than four months since the New Flemish Alliance (NVA) won the most seats in elections in June - but it needs to form a coalition to govern.
NVA leader Bart De Wever was asked to submit his proposals by 18 October.
But three French-speaking parties involved in coalition talks have rejected the plans.
Mr De Wever was given the deadline by King Albert II, who asked him to find common ground between the seven potential coalition parties.
The political stalemate is the result of growing divisions between the Dutch-speaking Flemish majority and the French-speaking Walloon minority.
Dutch-speaking parties have been demanding more powers for the most populous region, Flanders. But French-speaking parties see devolution as a step towards the break-up of Belgium and they fear Wallonia would suffer.
Mr De Wever, whose party's ultimate aim is independence for Flanders, produced a 48-page blueprint which he termed a compromise that balanced Flemish calls for change and the concerns of French-speakers.
Under his draft proposals, Belgium's three regions - Flanders, Wallonia and Brussels - would be able to gather taxes, reinforcing regional autonomy.
But that means Flanders would get the lion's share of the tax revenue.
The French-speaking socialists said De Wever's suggestions were one-sided, provocative and did not bridge divisions.
Their statement said: "The funding mechanisms as proposed strangle the development of Wallonia and Brussels and endanger the welfare of Walloons and people of Brussels".
Mr De Wever told reporters on Monday "fabula acta est" or "the show is over". He was due to report to the king later on Monday.
His mission had been dubbed a "last chance" by commentators, and Belgian newspapers painted a gloomy picture after he failed.
The French-language Le Soir's headline read: "Deadlock more than ever".
There is speculation that there may now be a call for new elections, although analysts say that may produce virtually the same result.
It is not unusual for coalition-building in Belgium to take months.
After previous elections in 2007, it took nearly 200 days for a government to be formed, but that coalition did not prove very stable and it eventually collapsed in April this year.
Related Internet Links
The BBC is not responsible for the content of external sites.