Russian spies receive top Kremlin honours - reports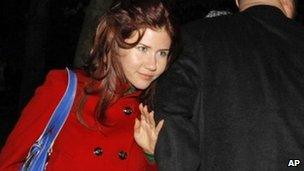 President Dmitry Medvedev has handed top state honours to Russian spies deported from the US earlier this year, reports say.
Russia's Interfax news agency quoted a presidential spokeswoman as saying the spies received the awards at a ceremony in the Kremlin.
Ten spies had admitted in a US court to being agents for a foreign country.
Moscow then agreed to exchange four US spies for the Russian agents and the swap was carried out in Vienna in July.
It was America's biggest spy swap with Russia since the Cold War.
"A ceremony took place in the Kremlin today to hand top state honours to a number of Foreign Intelligence Service (SVR) employees, including the spies who were working in the United States and returned to Russia in July," Kremlin spokeswoman Natalya Timakova was quoted by Interfax on Monday.
She did not provide any further details. It was not immediately clear whether the whole group received the awards.
The Kremlin has so far not released any television footage or pictures of the ceremony.
In July, Russian Prime Minister Vladimir Putin revealed that he had met the 10 agents, claiming they were living "tough lives" and had been "betrayed".
Mr Putin told journalists that he had sung Soviet-era patriotic songs with the spies.
He did not say where the meeting took place.
All the agents have been keeping low profiles since their return to Russia.
However earlier this month, spy Anna Chapman - whose provocative photos from social-networking sites made her a media sensation - made a surprise public appearance during a launch of Russia's spacecraft at a cosmodrome in Kazakhstan.