Dancefloor marsupial cruelty investigated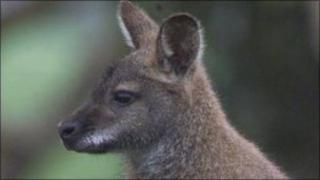 Police in the Irish Republic are investigating reports that a wallaby or baby kangaroo was released onto the dancefloor of a Dublin hotel at the weekend.
The incident took place during a birthday party held at the Clarion Hotel in Liffey Valley on Saturday.
The animal was released when a DJ played the theme tune to the television programme Skippy the Bush Kangaroo.
There are reports it later died, although these have not been confirmed.
Footage of the incident was posted on Facebook but has since been removed.
The Dublin Society for the Prevention of Cruelty to Animals (DSPCA) said it had received five complaints including one from a person who claimed to be at the party.
"We know that the animal was videoed, and you can imagine the fear and stress it must have felt. It is completely unacceptable that an animal would be used in this way," the society's Orla Aungier said.
"This bizarre and depraved series of events demonstrates that there are people in our society who need to be policed."
She said she believed the animal was a wallaby, rather than a kangaroo.
"We have also been told that after the party, the animal had died. That is only alleged, but the most important thing for us is to find out where the animal is and if it is ok," she added.
The Clarion's general manager, Garret Marrinan, said the hotel had passed on CCTV footage to the Garda (Irish police).
'Strange animal'
"We had a 30th birthday here in the hotel with between 150 and 200 guests and at about 11pm at night the duty manager noticed a group of people hovering on the dance floor," he told the Irish Times.
"He went to investigate and noticed some kind of a strange animal coming out of a box and shortly after going back into it.
"He wasn't sure what it was exactly but, because we have a no pets policy in the hotel, [he] called security who forced the people who brought the box in to take it out of the hotel," he added.
Mr Marrinan said the hotel did not know the animal was a wallaby or kangaroo until they were contacted by police on Tuesday. He said they were "offering every assistance possible" to officers.
"We're horrified by this," he said.
"Absolutely nothing like this has happened before, either here or at other Clarion hotels, and this is something we don't want to be associated with."
A Garda spokesman would only say the incident was under investigation.
However, a Garda source quoted by the Press Association said: "We believe that it was hired and brought to the party for around 10 minutes.
"We are investigating an allegation that it was given alcohol but there is no evidence of that either at this stage.
"After the CCTV footage, no one knows what happened, good, bad or indifferent."