Turkish court rejects Kurdish hearing plea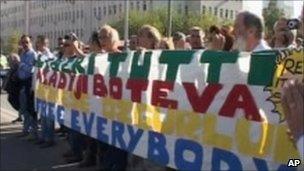 A Turkish court has refused permission for 151 Kurds standing trial for allegedly supporting Kurdish separatism to defend themselves in Kurdish.
The Kurds, including 12 mayors, are charged with supporting or being members of an illegal organisation - a reference to the Kurdish militant group, the PKK.
The court said the accused were all able to speak and understand Turkish.
Preliminary hearings had already been held in Turkish, it added.
"The request for a Kurdish defence was rejected unanimously on the ground that the defendants spoke Turkish in the questioning and investigation stage," court chairman Menderes Yilmaz said.
"The use of interpreters would only extend the course of the hearings."
The 151 Kurds are accused of crimes including membership of an illegal armed group, spreading its propaganda, undermining Turkey's territorial integrity and holding illegal public demonstrations.
The trial, which began on Monday in Diyarbakir in the Kurdish-dominated south-east of the country, is being seen by some as a test of Turkey's democratic credentials.
The PKK has fought a 26-year conflict with the Turkish government, which has claimed more than 40,000 lives.
The PKK has revised previous demands for independence, and now calls for more Kurdish autonomy. It is viewed as a terrorist group not just in Turkey, but by the US and European Union.
Related Internet Links
The BBC is not responsible for the content of external sites.