Counting the cost of leaving Germany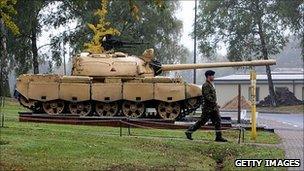 British troopers arrived in Germany as liberators in 1945, and stayed as part of Nato after the division of the country.
Today, there are 20,219 soldiers of all ranks plus their wives and husbands and 12,700 children.
The troops' role is predominantly to operate tanks and other armoured vehicles - but at a time when tanks aren't as central as they once where.
When the continent of Europe was split down the middle, the British armoured forces were stationed in north-west Germany, looking out at similar Warsaw Pact forces on the other side of the Iron Curtain.
Today, the British troops in Germany are usually deployed to Afghanistan where the role of the tank is limited. They train in Germany on vast areas of wilderness in armoured personnel carriers and tanks before transferring to and from Afghanistan.
Accordingly, the writing has been on the wall since the Berlin Wall fell.
Numbers have steadily declined - and now the presence is to go altogether within 10 years.
The savings to the British taxpayer are unclear.
For one thing, the bases and the accommodation are provided by the German government, though not the running costs of those bases.
With the transfer back home, the bases would have to be provided by the British taxpayer. The running costs would be much the same.
British troops in Germany get a "local overseas allowance" to cover the difference in living costs between Britain and Germany.
It's calculated every three months and changes depending on how local costs change and on movements of the exchange rate between the pound and the euro.
At the moment, the allowance is not high because the difference in living costs isn't great - so the saving here is unlikely to be large, either.
Pulling out armoured regiments is not cheap. It involves moving heavy equipment but also closing schools and cinemas and all the ancillary parts of a community of 43,300 people living abroad.
As one military person put it to the BBC: "You can't just turn off the lights and shut the door."
On one estimate, the cost would be about £800 million.
One gain to the British taxpayer would be the spending power of the forces based there rather than in Germany.
It's hard to put a figure on that, but the authorities in the towns of Germany are already worried about the impact of the departure.
Tim Kaehler, the deputy mayor of Bielefeld, told the BBC the British troops would be missed.
"It's a big pity because we have wonderful relationships with the English troops. We will be missing a part of this town. We have friendships and relationships together and so we will also be missing a part of culture in Bielefeld."
Related Internet Links
The BBC is not responsible for the content of external sites.