Czech neo-Nazis jailed for Roma attack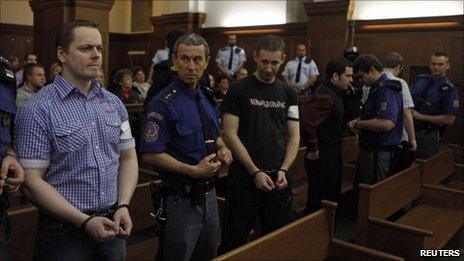 Four right-wing extremists in the Czech Republic have been jailed for an arson attack on a Roma family.
The court in the eastern city of Ostrava handed down sentences of up to 22 years for racially motivated attempted murder.
Three people were hurt when three Molotov cocktails were thrown into a Roma house in Vitkov on 19 April, 2009.
One of the victims was a toddler who barely survived, suffering 80% burns on her body.
Two-year-old Natalka Kudrikova only left hospital in December, after many operations, and has lost three of her fingers.
Her mother Anna Sivakova suffered 30% burns.
The case caused a public outcry and sparked unrest among the Roma community.
Following the attack, the Czech government stepped up its efforts to fight right-wing extremism.
David Vaculik, Jaromir Lukes and Ivo Mueller were sentenced to 22 years in jail for the attack, while the youngest defendant Vaclav Cojocaru, was given a 20-year term.
The judge, Miloslav Studnicka, said the crime was motivated by the four men's membership of extremist groups and movements, and by "an effort to show off within these movements" ahead of the 120th anniversary of Hitler's birth, the following day.
"They committed the crime," said the judge, "in an exceptionally cruel and painful way on people younger than 15 years and for their ethnicity."
All four men immediately appealed against the verdict.
Several of the accused had claimed they did not know the house was inhabited.
Czech TV quoted defendant Ivo Mueller as saying that the group did not expect there to be such "disastrous consequences".
"I want to apologise to the Sivak and Maly families," he reportedly said. "I am sorry that such a small child was injured."
The men were also ordered to pay damages of the equivalent of 17m koruna ($957,000; £608,000) to a health insurer and to the Roma family.
The Czech Republic has a Roma population estimated at between 250,000 and 300,000.
They are among the poorest in Czech society and Roma leaders often complain of endemic racial discrimination.
Related Internet Links
The BBC is not responsible for the content of external sites.