Chechnya parliament attackers 'arrived by taxi'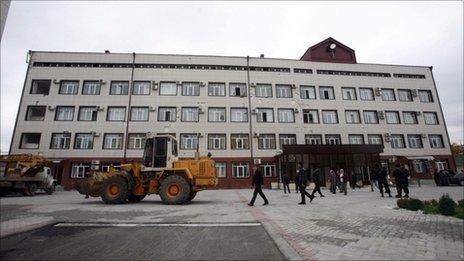 Three militants who shook Chechnya by attacking its parliament on Tuesday arrived by taxi, Russian media report.
It took security forces in the capital Grozny at least 15 minutes to overcome the attackers, who detonated explosives and fired assault rifles.
Carrying Kalashnikov assault rifles and wearing combat gear, the militants are said to have duped the driver of a Lada taxi.
They reportedly told him they were bodyguards to an MP and "running late".
Stopping close to the parliamentary compound, they asked the driver to "hold on a few minutes", then waited for an MP's car to appear, the driver later told investigators.
One policeman was killed and the other seriously wounded.
The attackers made across the yard to the parliamentary chamber but ran into genuine bodyguards who were outside waiting for their MPs to turn up.
A battle ensued in which at least two rocket-propelled grenades were discharged, visiting Russian politician Igor Danilov told Kommersant.
Mr Danilov said he had been due to attend a meeting at the parliament to "hear how modern Chechnya was faring in peacetime".
Outnumbered by the bodyguards, the militants split up: two ran towards the parliamentary administration building while the third covered them by blowing himself up, killing a bodyguard and the parliamentary bursar.
The surviving militants entered the administration building but got no higher than the ground floor as Chechen paramilitary police sealed off the stairwells and blocked them in.
According to Kommersant, the two gunmen kept firing until their ammunition ran out, then both blew themselves up with bombs.
In all, six people including the militants were killed and 17 injured.
One of the attackers, all of whose bodies were badly mutilated, has been identified by Chechen police as a 22-year-old Chechen man, Muslim Chichkanov.
Chichkanov, from the village of Sernovodsk, had been an active member of an illegal armed group since the end of last year, police spokesman Ruslan Alkhanov said.
The other two attackers remained unidentified. No group has said it carried out the raid.
Related Internet Links
The BBC is not responsible for the content of external sites.