Poland receives report on air crash that killed leader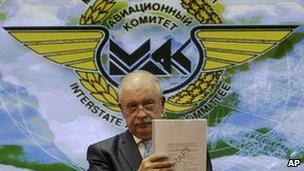 A detailed technical report on the Smolensk air disaster in western Russia has been handed to Polish investigators in Moscow more than six months on.
The report, by the Interstate Aviation Committee (Mak), which includes Russia and other ex-Soviet states, looks at the crash's circumstances.
It was passed to Poland's chief investigator, Edmund Klich.
President Lech Kaczynski and other prominent Poles were among 96 people who died in the 10 April crash.
Announcing the hand-over of the report, Mak said Russian, Polish and US experts had worked together to investigate the disaster.
As well as technical details of the plane and its doomed final flight, investigators subjected the actions of its crew to a psychological assessment.
The report's conclusions will not be revealed before Poland responds formally to the report, Mak added.
Related Internet Links
The BBC is not responsible for the content of external sites.