Belgian skydiver who killed love rival given 30 years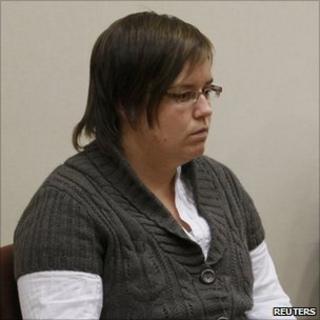 A Belgian woman convicted of murdering her fellow skydiver and love rival by sabotaging her parachute has been jailed for 30 years.
Els Clottemans, 26, had been convicted after a four-week trial in the north-eastern Flemish town of Tongeren.
The jury had heard how she cut key parts of the parachutes of Els Van Doren, 38, because she was jealous of her relationship with a male skydiver.
Ms Van Doren fell 1,000m (3,200ft) to her death in November 2006.
Clottemans had denied the charges.
'Circumstantial' evidence
The prosecution had called for Clottemans to be sentenced to life in prison.
However, Judge Michel Jordans said the jury had indicated there were two extenuating circumstances - Clottemans' mental instability and her young age.
Defence lawyer Katrien Van der Straeten said: "Do not close the door fully, but give her a ray of hope."
Belgian law allows for Clottemans, who did not speak at the sentencing, to seek conditional release after one-third of her sentence.
Judge Jordans said on Wednesday in the court in Tongeren (French: Tongres) that the 12-member jury had replied "Yes" to the question of Clottemans' guilt and as to whether the crime was premeditated.
However, the evidence against her was mainly circumstantial, the BBC's Jonty Bloom in Brussels said.
It rested on the fact that Clottemans had the opportunity and skill to sabotage Ms Van Doren's parachute and a motive because she wanted to remove a rival for the affections of Marcel Somers - the man both women had had a relationship with.
No forensic evidence linked Clottemans to the crime and she strongly denied the charge.
Ms Van Doren died on 18 November 2006, crashing into a garden in the village of Opglabbeek after both of her parachutes failed to open.
Her fall was captured by her own helmet video camera, which only stopped recording at the moment of impact.
She had jumped over the Zwartberg area at 4,000m along with Marcel Somers and a second man from a Cessna plane. All three were experienced parachutists.
The three took each other's hands for a formation freefall they had rehearsed on the ground earlier along with Clottemans. But Clottemans missed them, having jumped a fraction too late.
Clottemans was reportedly able to watch as her three fellow jumpers separated at 1,000m to open their parachutes, with Ms Van Doren trying in vain to activate hers.
"Els tried to do everything to try to save herself," Luc Deijgers, who piloted the Cessna plane, told Belgian TV.
"She tried to open the reserve parachute but it wouldn't open. That never happens."
After establishing that the victim's cords had been cut, police arrested Clottemans in January 2007.
Night together
Laying out details of the love triangle during the trial, prosecutor Patrick Boyen said that Mr Somers had entertained Ms Van Doren, a married mother of two, most Saturdays while often seeing Clottemans on Fridays.
Mr Somers later reportedly tried to "shake off" Clottemans.
A week before the fatal jump, the two women spent the night in his flat, Ms Van Doren sharing his bed while Clottemans slept on a mattress or sofa.
Clottemans would have had the opportunity of sabotaging the other woman's parachutes, which were in the flat at the time, prosecutors said.
Experts said it would have taken just 30 seconds to do so with scissors.