Audit shows 33,000 'ghost' houses in the Republic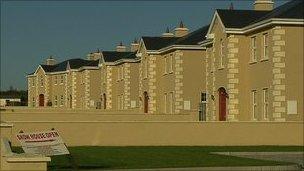 There are more than 2,800 so-called ghost estates in the Republic according to a survey carried out by the Irish government.
The report published on Thursday gives a break down of the number of new developments unfinished in the wake of the property market collapse.
It has identified 33,000 houses which are complete and vacant or incomplete.
Longford, Leitrim, Sligo and Roscommon are the worst affected counties.
The 2,800 unfinished estates contain over 120,000 properties where construction had started.
Of these 77,000 homes were completed and are currently occupied. A further 23,000 properties are either completed and vacant and 10,000 are almost complete.
A remaining 10,000 are at very early stages of construction from site clearance to the laying of foundations.
Irish Planning Minister Ciaran Cuffe said the Department of Environment audit provides the government with a clear picture of the extent of the problem of ghost estates.
"It also provides us with the types of issues arising, and the basis on which a clear package of actions to address and resolve both systemic and individual issues can be developed," he said.
Carlow County Council, one of the smallest local authorities in the Republic, has one of the highest levels of empty homes.
Around 176 of the 320 houses planned for small villages and towns across the county are lying idle.
Other badly affected counties are Roscommon, Leitrim, Sligo and Longford.
Unoccupied buildings in ghost estates pose serious safety risks because sewers are left open, water is contaminated and security is lax.
The Department of Environment said the information provided by the audit provides them with the tools to tackle the large number of incomplete properties spread across the country.
It is believed many of the new houses will be bulldozed because of health and safety fears.
Others will be taken over by councils are turned into social housing.
A number of homes, re-possessed by banks when developers defaulted on loans, will be finished and sold at discount.
A consultation process will begin in the next three weeks where members of the public and local authorities will be asked for their opinions on how the problem should be resolved.
Related Internet Links
The BBC is not responsible for the content of external sites.