Putin aide Sobyanin confirmed as Moscow mayor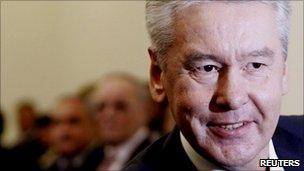 The city legislature in Moscow has confirmed that Sergei Sobyanin will be the Russian capital's next mayor.
Mr Sobyanin, 52, a close aide of Prime Minister Vladimir Putin, was approved overwhelmingly.
Mr Sobyanin has vowed to tackle corruption and the capital's excessive red tape and poor management.
He replaces Yuri Luzhkov, who was removed in September after his 18-year tenure had come under fierce media criticism.
Moscow's city legislature is dominated by the Kremlin-backed United Russia party.
Mr Sobyanin's appointment was opposed by only three of the 35 deputies.
The dissenting lawmakers, Communists, are the only opposition to United Russia in the council and dismissed the vote as a farce.
One of the Communist legislators, Andrei Klychkov, said: "Muscovites don't have a choice, everything has been decided behind closed doors."
The key speech in favour of Mr Sobyanin came from Kremlin chief of staff Sergei Naryshkin.
He said Mr Sobyanin had "an earned authority of a person who can gradually reach his goals... he is a manager with a high work ethic".
Ahead of his confirmation, Mr Sobyanin said: "The city is missing opportunities... its growth pace has started to slow down. Moscow can develop more dynamically and with higher benefit to its inhabitants.
"The city needs more open and efficient management."
Vyacheslav Volodin, a senior official from United Russia, has been appointed to replace Mr Sobyanin as Mr Putin's chief of staff.
In the weeks before his sacking on 28 September, Mr Luzhkov had been the subject of a constant barrage from state-run TV, which criticised him for gridlock on the capital's roads and bulldozing historic buildings.
Mr Luzhkov, 74, and his billionaire wife, Yelena Baturina, were also accused of corruption.
Mr Luzhkov has denounced all the claims as "total rubbish". He has threatened to sue the TV channels concerned.
President Dmitry Medvedev said he had removed Mr Luzhkov because he had lost trust in him.
Analysts say Mr Sobyanin's appointment could further strengthen Mr Putin's grip on power in the run-up to the 2012 presidential elections, in which Mr Putin has hinted he may try to return to the Kremlin.
Some Russian experts had suggested Mr Sobyanin would follow Mr Putin as the nation's president but in the event he did not stand and instead ran Mr Medvedev's election campaign.
Related Internet Links
The BBC is not responsible for the content of external sites.