Italian clashes over waste dumps near Naples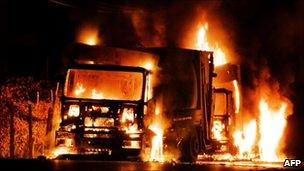 Police and protesters have clashed near the southern Italian city of Naples over new waste dumps intended to ease the rubbish crisis in the region.
Protesters set rubbish trucks alight and threw fireworks. A number of officers were injured.
Residents fear contamination by unregulated and toxic waste disposal.
Naples has suffered years of waste mismanagement, with corruption and organised crime leading to streets filled with rubbish.
The protests have been rekindled by plans to open a dump in the Vesuvio National Park, near the town of Terzigno.
Some of the worst clashes on Thursday came outside an existing dump in the town, with police officers charging at protesters.
The governor of the Campania region around Naples, Stefano Caldoro, said the protests would not stop plans to build more waste sites.
"Today's fears are due to the illegal practices of the past when all sorts of dangerous materials ended up in the dump sites.
"But now we are talking about waste sites that are checked rigorously, that exist in the rest of Italy and in Europe," he said.
Pierluigi Bersani, leader of Italy's main opposition party, the centre-left Democratic Party, called on the government to take urgent action.
"The government should stop telling us about miracles but find a solution to a situation that risks triggering a real revolt," he said.
Prime Minister Silvio Berlusconi has called an emergency meeting on the crisis for Friday.
Related Internet Links
The BBC is not responsible for the content of external sites.