Cuba agrees to release five more dissidents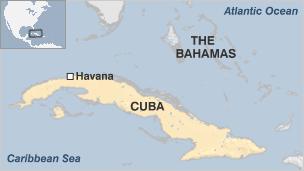 The Cuban government has authorised the release of five more dissidents who are not among a group of 52 set for freedom under an agreement reached in May, the Roman Catholic Church has said.
The prisoners - four men and a woman - have accepted exile in Spain in return.
Four of the five are on a list of inmates whose arrests are considered to have been politically motivated.
Earlier, the European parliament gave its human rights award to the prominent Cuban dissident, Guillermo Farinas.
Mr Farinas told the BBC that the honour would increase his commitment to peaceful change in Cuba, but warned that it might his campaign for greater political freedom more difficult.
The Cuban government usually increased attacks on dissidents as they became more well-known, he explained.
Mr Farinas was given the Sakharov prize in recognition of his repeated hunger strikes to demand the release of political prisoners.
In a statement, the archbishopric of Havana announced that Juana Maria Nieves, Domingo Ozuna, Juan Francisco Marimon, Misael Mena and Jose Luis Ramil would be released by the Cuban authorities.
They were serving jail terms ranging from 10 to 17 years for such crimes as hijacking and terrorism, according to the Associated Press.
Under a deal brokered by the Church in May, the government promised to free - by 8 November - 52 political prisoners imprisoned in 2003 after a crackdown on opposition activists, government critics and commentators.
So far, 39 have flown to Spain, along with members of their families. However, seven of the 13 dissidents still in prison have rejected the Church deal because they do not want to leave Cuba.
Earlier this month, at least nine other inmates were added to those to be freed. Many of them were convicted of violent crimes, according to the independent Commission for Human Rights and National Reconciliation.
Human rights groups say that between 40 and 100 people remain in jail for political reasons. Under Cuban law, dissidents can be arrested, tried and jailed for speaking and writing against the government under charges like enemy propaganda, clandestine printing and unlawful association.
Related Internet Links
The BBC is not responsible for the content of external sites.