Mafia victims condemn Italy's Big Brother TV show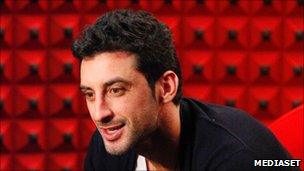 Relatives of mafia victims in Italy have condemned the appearance in the latest series of Big Brother of the son of a convicted mobster.
The National Association for the Families of Mafia Victims said it was "shameful" to exploit the gangster's notoriety to boost the show's ratings.
The son, Ferdinando Giordano, has never been in trouble with the law.
The reality TV show has defended his selection as a contestant.
Its presenter said it was not for the son to pay for the sins of the father.
The programme is being broadcast on Italy's Channel 5, which belongs to the Mediaset group, owned by Italian Prime Minister Silvio Berlusconi.
Ferdinando is a 30-year-old shop assistant from Salerno in southern Italy.
His father, Matteo, was a member of the Neapolitan mafia, the Camorra.
Matteo was convicted of illegal possession of arms and property crimes. He died eight years ago after an illness.
Ferdinando has said that he did not have a strong relationship with his father and only became close to him when he was ill.
Ferdinando is not the only controversial choice for the show. One of the other 16 contestants - as yet unidentified - is said to be a gigolo.
Almost six million Italians tuned in this week to the first edition of the new series.
It is the 11th series of Big Brother to be broadcast in Italy.
Related Internet Links
The BBC is not responsible for the content of external sites.