Swedish police link 'racist' shootings to lone gunman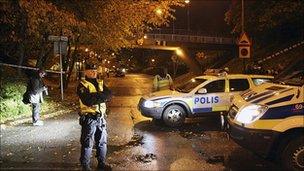 Swedish police fear a lone gunman may be behind a spate of racially-motivated shootings in the southern city of Malmo.
Detectives say they are linking up to 15 gun attacks in the city over the past year that have targeted people of immigrant background.
The investigation comes amid growing tension in Sweden over immigration.
In elections in September, 20 members of a far-right anti-immigration party won seats in parliament.
Police have not revealed exactly which cases the special unit is looking into.
However, Swedish media report that they include one fatal shooting - a 20-year-old woman last October who was sitting in a car.
In recent weeks, two men of ethnic minority background have also been shot and wounded while waiting at bus stops in the city.
And on Thursday evening two women described by police as "immigrants from a European country" were wounded after being shot through their apartment window.
"We have established a special unit here in Malmo to investigate between 10 and 15 similar crimes," police spokesman Lars-Haakan Lindholm told AFP news agency.
"It does appear there are racist motives. We are receiving help from profilers from the national police force. This is our number one top priority right now."
The investigation has revived memories of a spate of racially-motivated attacks in and around the Swedish capital Stockholm from August 1991 to January 1992.
John Ausonius, now 57, killed one person and wounded 10 others. He was jailed for life in 1994.
Malmo, which has a significant immigrant population, was the scene of riots in December 2009 following the closure of an Islamic centre.
Related Internet Links
The BBC is not responsible for the content of external sites.