French police to go on trial for 2005 Paris riot deaths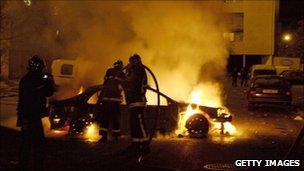 Two police officers are to go on trial in France accused of failing to save the lives of two teenagers in 2005.
Zyed Benna and Bouna Traore were electrocuted as they tried to hide from police in an electricity sub-station in the Paris suburb of Clichy-sous-Bois.
Rioting erupted in cities across France and lasted for three weeks, as youths blamed police for their deaths.
Investigating judges have turned down a prosecutor's request to have the case dropped due to lack of evidence.
A year after the deaths, an internal police report confirmed claims that the teenagers had been chased by police before they entered the sub-station.
One officer who is alleged to have seen the youths go in and a police intern who was listening to radio communications from the scene are to face charges of "non-assistance to a person in danger".
"It is very satisfying. I am very happy," Bouna Traore's brother, Siyakha, told AFP news agency on Friday.
But a lawyer acting for the police officers, Daniel Merchat, complained they were being sacrificed on the altar of public opinion.