Four on trial in Cyprus for murder of media magnate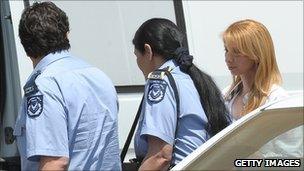 A trial into the murder of a media tycoon in Cyprus has restarted, with a fourth person joining the defendants.
The proceedings have attracted intense interest, with a TV presenter, Elena Skordelli, among those on trial.
She is accused of paying for the contract killing of Andis Hadjicostis, the head of the Dias media group.
The trial opened in June, but a re-run was ordered after the man alleged to have pulled the trigger was arrested in Moldova.
Gregoris Xenophontos, who was extradited from Moldova in August, appeared alongside the three other defendants in a court in Nicosia on Monday.
The four pleaded not guilty to charges of premeditated murder, conspiracy to murder and conspiracy to commit a crime; they were ordered to remain in custody until the court reconvenes on 9 November.
Mr Hadjicostis died instantly after he was shot outside his home in Nicosia in January.
The prosecution alleges that Ms Skordelli and her brother organised the murder after she was sacked by her boss.
Prosecutors also accuse the pair of trying to gain a majority stake in Sigma - the Dias station on which Ms Skordelli hosted a prime time news show.
Correspondents say violent crime is rare in Cyprus, and the twists and turns of the case have been followed closely by both the Greek and Turkish communities.