French fuel depots cleared of protesters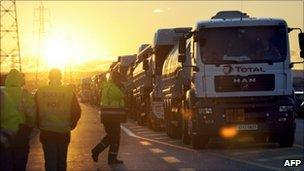 All of France's 200 fuel supply depots have been cleared of strikers protesting against the government's pension reforms, according to an oil industry lobby.
In a separate development, workers at three of France's 12 oil refineries have voted to end their strikes.
Widespread fuel shortages have affected one in three petrol stations.
The government warned on Monday that the disruption was threatening the country's fragile economic recovery.
Finance Minister Christine Lagarde said the strikes were costing France between 200m and 400m euros (£350m; $561m) per day.
The authorities have struggled to reopen fuel depots in recent days as striking workers reimpose blockades soon after they are moved by police.
Port workers and dockers had earlier regained control of the biggest oil depot in the south of France, at Fos-sur-Mer.
All 12 of France's oil terminals have been out of action although workers have voted to return to work at two Esso terminals, one in the south and one in the north.
A similar decision has been taken at the Reichstett refinery in eastern France which was shut down in a separate dispute.
Parliament is expected to bring into law on Wednesday an increase in the minimum retirement age from 60 to 62.
But the unions have called another day of national strikes on Thursday and students are due to stage further protests on Tuesday.
The French finance minister said the shortage of fuel and the widespread protests were clearly taking their toll.
"Today, we shouldn't be weighing down this recovery with campaigns that are painful for the French economy and very painful for a certain number of small and medium-sized businesses," Ms Lagarde said.
A strike at the port of Marseille has entered its 30th day and around 70 ships are moored off the coast.
French union Force Ouvriere indicated that due to "sanitary" reasons, it would encourage its members to vote to end a rubbish collection strike in the port city, a strike said to have spread to other towns and cities in the region.
"The movement is not over but we're taking into account a particular cleanliness situation," the union's Elie-Claude Argy said, according to Agence France Presse.
Some 10,000 tonnes of rubbish are clogging the streets of Marseille in what the mayor has described as a "dramatic situation".
Reports say the biggest rubbish treatment centre in France, at Ivry-sur-Seine, has been blockaded for the past three days.
The unions have called further national strike days on 28 October and 6 November, if President Nicolas Sarkozy does not withdraw the pension law or open negotiations.
Related Internet Links
The BBC is not responsible for the content of external sites.