EU seeks more dialogue with Cuba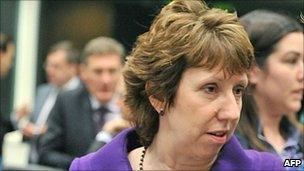 The EU foreign affairs chief, Baroness Ashton, is set to contact the Cuban government in an effort to improve ties with Havana, diplomats say.
The EU's "common position", dating back to 1996, demands that Cuba makes progress on democracy and human rights before any normalisation of ties.
Cuba's communist government pledged in July to free 52 political prisoners - and most have been released.
Spain, unlike some other EU states, wants a "positive" EU-Cuba dialogue.
Last week the European Parliament awarded its Sakharov Prize for human rights to Cuban dissident Guillermo Farinas, who ended a hunger strike after Havana announced it was freeing the prisoners.
Reports said Mr Farinas was close to death after refusing food for more than 130 days.
The death of another dissident while on hunger strike in February put pressure on Cuba.
Cuba has always denied that it has political prisoners, calling them mercenaries paid by the US to undermine Havana's rule.
In September, four recently released Cuban prisoners urged the European Parliament not to revise the EU's 1996 position on Cuba.
One of them, Ricardo Gonzalez Alfonso, said that "if in Cuba there were real freedom of expression, of association and of press, I would come here to ask that the common position be modified".
Several former communist countries now in the EU are against Brussels softening the EU position on Cuba.