EU gives Serbia bid new momentum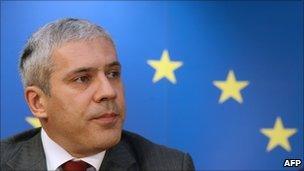 EU governments have asked the European Commission to give its opinion on Serbia's bid to join the EU - seen as a new phase in relations with Belgrade.
The EU's Enlargement Commissioner, Stefan Fuele, said the move was an "expression of strong EU support" for Serbia's leaders.
Serbia presented its application for EU membership in December 2009. Formal accession talks have not yet started.
Serbia has dropped its demand for international talks on Kosovo's status.
Kosovo declared its independence from Serbia in 2008 - a move condemned by Belgrade.
But the unblocking of the status issue last month means a path is now open for direct talks between Kosovo and Serbia.
The EU stresses that progress in Serbia's membership bid depends on full co-operation with the international war crimes tribunal in The Hague.
EU foreign ministers urged Serbia again on Monday to arrest the two remaining top fugitives - former Bosnian Serb general Ratko Mladic and the Croatian Serb wartime leader Goran Hadzic.
"The level and effectiveness of Serbia's co-operation with the ICTY [the Hague tribunal] will be paramount to achieve a positive opinion on Serbia's membership application," Mr Fuele said.
"I hope Serbia will be able to show to the ICTY prosecutor, during his next visit, that its efforts have been intensified since June. Serbia has in the last years achieved a credible record. We hope to see it now cover the last mile and locate and arrest the two fugitives at the earliest opportunity."
Serbian Deputy Prime Minister Bozidar Djelic vowed Serbia would renew attempts to catch both fugitives.
"This is something that we will do even without the language of today's [EU] Council, because we believe it is a core element of the reconciliation in the region," he said.
Many EU member states and the United States have already recognised Kosovo's independence.
In July the International Court of Justice ruled that Kosovo's declaration of independence did not break international law.
Serbian troops were driven out of Kosovo in 1999 after a Nato bombing campaign aimed at halting the violent repression of the province's ethnic Albanians, who constituted 90% of its two million population.