Coming into fashion: a Chinese mark on Italian clothes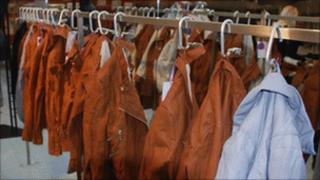 There was a time that the label "Made in China" was a byword for inferior quality and cheap prices.
The shoddy reputation has certainly long gone and the label could now be rewritten "Made by Chinese".
The Chinese are increasingly setting up businesses in other countries and nowhere is their export of entrepreneurial skill more evident than in Italy and that most Italian of industries, clothing.
Just north of Florence is the town of Prato, with a 1,000-year history of textile and clothes manufacturing.
Prato has a population of about 190,000, of whom around 35,000 are Chinese - perhaps the highest concentration of Chinese in Europe, outside a major city.
"There are about 5,000 Chinese-run factories in Prato," says Silvia Pieraccini, an investigative reporter who has just written a book, L'Assedio Cinese (The Chinese Siege).
"Many are large, warehouse-size businesses, others are in single rooms, but all are producing clothes that carry the Made In Italy label," she told me.
She estimates that they are making around 1m garments a day, with a value of about 2bn euros (£1.75bn) per year.
'Some are angry'
Most of those clothes are mid-range and are exported to countries such as Canada, Mexico and Eastern Europe.
But even in the land of Armani, Gucci and Prada, Italians are buying Chinese clothes made in Italy.
In a showroom in a Chinese-owned factory, models try on the latest leather jackets in front of buyers from some of Italy's top fashion stores, such as Sandro Ferrone.
Chairing the meeting is Xu Lin, one of the pioneers who came here from Shanghai 20 years ago, who talks to the buyers in fluent Italian about the colour, cut and cost of his clothes.
"There are fewer Italians working in this industry now and some are angry about that. But this should not be a problem," he says.
Italian buyer Alex Castelasi tells me that Chinese goods are 50% cheaper than Italian clothes.
"The Chinese can't be beaten on price and the quality is now very good," he says.
It is this competitive edge that is causing the Italian clothing industry to fray at the edges.
The Chinese are beating the Italians at their own game, as if they had gone to France to make champagne or to Scotland to make whisky.
So great has the Chinese impact been on Prato that, according to the town's chamber of commerce, half the Italian-owned textile businesses have gone since 2001 and around 3,000 remain.
'Upside down'
Giuseppe Cocchi has been with his Binicocchi textile company for 50 years and has had to get rid of around 100 workers in the past decade, half his workforce.
"The Chinese import their own textiles from China at a dollar a metre, while ours cost $10. They've turned things upside down," he says.
You can see the effects in Mr Cocchi's factory.
While some machines are working flat out to supply fabrics to long-standing customers like Armani and Zara, many others are at a standstill.
"We used to have customers come to us," says Mr Cocchi. "Now we have to go in search of them."
Mr Cocchi has heard colleagues in other parts of Italy saying they don't want to become "another Prato".
Privately, Italian clothes-makers claim that the Chinese are successful because they are breaking the rules.
Silvia Pieraccini believes up to 20,000 Chinese are in Prato illegally.
"They're paid next to nothing, which makes Chinese output so much cheaper than Italian production. There's also evidence they bring in their own raw materials without paying full import taxes on them," she says.
The finance police, the Guardia di Finanza, believe there are thousands of undocumented Chinese workers in Prato.
Resentful
A police video shows a raid on an illegal Chinese garment factory.
Behind a bookcase is a secret compartment containing beds used by the illegal workers.
The police also think Chinese organised crime has moved into Prato, to try to control the illegal workers and bring in prostitution and drugs.
Certainly, the local Italian population has become fearful and resentful of the Chinese presence and that has fed into existing anxieties about immigration and the economy.
In 2009, Prato elected its first right-wing mayor in more than 60 years. Roberto Cenni has spoken of a "Chinese invasion" and has called for action from the European Union.
Xu Lin, the Chinese businessman who came here 20 years ago, is offended that the Chinese are portrayed as criminals or smugglers, intent on unpicking this ancient Italian industry.
"The Italians are still the best at design and we have much to learn about that," he says.
Mindful of the fact that this is already being called the Chinese Century, I ask him whether the rest of the world can expect more Chinese to arrive and take over their industries, too.
"Within the next 50 years, China will be an important country," he says, with impeccable understatement.