German railways disrupted by strike over pay inequality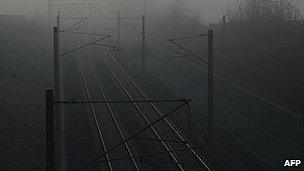 Rail services have been disrupted in parts of western and southern Germany by a strike over pay inequality.
Unions are demanding an improved pay offer from the national rail operator Deutsche Bahn and private companies.
They say private rail companies pay up to 20% less for the same work and are demanding wages based on a single contract for the industry.
Services were affected in North Rhine-Westphalia, Bavaria, Saxony-Anhalt and Lower Saxony, unions said.
Sector-wide contracts are the norm in Germany but negotiations between the operators and the unions had reached an impasse.
"It cannot be allowed for colleagues to receive up to 20% less pay for the same work, especially when the private operators use this type of wage dumping as a competitive edge to win contracts," the unions said in a statement quoted by the Reuters news agency.
Railway workers won a 4.5% pay increase and improved working hours in 2009 after a series of strikes.
Related Internet Links
The BBC is not responsible for the content of external sites.