Spanish prostitutes don reflective vests to avoid fines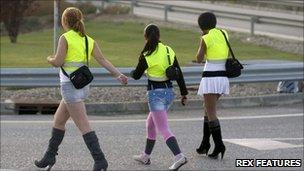 Prostitutes working along a main road outside a Spanish city are wearing reflective yellow jackets to avoid police fines.
Police say the women are a traffic hazard on the busy LL-11 east of Lleida in Catalonia and face fines of 40 euros (£35) for not wearing the bright bibs.
Officers say they are simply enforcing a law that applies to everyone walking along rural highways.
Lleida recently banned street prostitution.
However, the area where the prostitutes work, Els Alamus, is outside the city limits.
Police say the women congregate at roundabouts and without the jackets they pose a danger to themselves and to drivers.
A Catalonian police spokesman said: "In the past couple of months the prostitutes have been fined for two reasons - for not wearing the reflective jacket and for creating danger on the public highway."
The mayor of Els Alamus, Josep Maria Bea, told Spanish media that the fact that the women use reflective vests does not solve the problem of prostitution in the municipality.
Spanish law allows the practice of prostitution, but it is a criminal offence for a person to profit from the prostitution of another.
Campaigners for sex workers say that as prostitution is not specifically regulated, local councils create their own measures, often taking the form of police harassment and the creation of specific regulations connected with public spaces.