Rights groups condemn 'abuses' ahead of Azerbaijan vote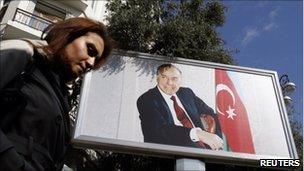 Rights groups have accused the authorities in Azerbaijan of violence, intimidation and violations to prevent free and fair parliamentary elections next month.
The Azeri government has rejected the accusations as groundless.
In a report published on Tuesday, Human Rights Watch (HRW) said some journalists had been jailed.
It said police had physically attacked others to prevent them reporting on matters of public interest.
Separately, Azerbaijan's independent Election Monitoring and Democracy Studies Centre (EMDSC) told the BBC there had been violations of the registration process for candidates for November's elections.
The author of the HRW report, Giorgi Gogia, said: "You can't have a free and fair vote when the people who report the news are in jail or have been harassed into silence."
HRW has called on the government to free imprisoned journalists and repeal criminal libel laws, which it says allow charges to be brought by officials and others against journalists and activists.
Mr Gogia said: "Legal cases, and especially criminal cases, against those who report or broadcast on issues of public interest are a cynical attempt by the government to impose censorship."
HRW also called for the prosecution of people who use violence or threats against reporters in the oil-rich, former Soviet state.
The governing New Azerbaijan Party won more than half the seats in the last parliamentary elections in 2005, which international observers declared fell a long way short of international standards.
The chairman of the EMDSC, Anar Mammadli, said some potential opposition candidates had been asked to produce documents not required by law for registration. He said some people who had nominated candidates had come under pressure to withdraw their signatures.
Mr Mammadli said this meant only the New Azerbaijan Party had been able to field more than 60 candidates, the number required to be allowed three hours of coverage on public radio and TV during the campaign.
Mr Mammadli said the reduction over the last two years of the campaign period from 60 to 23 days did not give opposition candidates and parties enough time to become known, while the abolition of state funding for candidates made it difficult for some independents and members of small parties to stand.
"We think these elections can't be considered as democratic, free and fair as the government is trying to create a situation without alternatives," he said.
An Azeri Foreign Ministry spokesman, Elkhan Polukhov, said the accusations of violence and intimidation were "groundless" and that if people were subjected to such things they should report them to the police.
He said all candidates for the 7 November elections were allowed four minutes of coverage each on TV, while there were hundreds of blogs and web sites on which people could express their political opinions.
He said the other allegations should be put to the Central Election Commission, which did not respond to requests for comment.
Related Internet Links
The BBC is not responsible for the content of external sites.