EU divided over plan for Lisbon Treaty change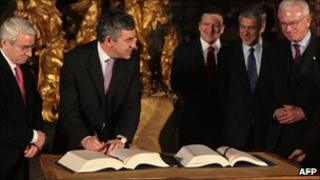 A new Euro-row is escalating over a Franco-German plan to rewrite part of the EU's Lisbon Treaty.
EU Justice Commissioner Viviane Reding said talk of treaty change was "irresponsible". The change would tighten the EU rules on national debt.
France's Europe Minister Pierre Lellouche hit back at the Luxembourg politician on Wednesday, calling her language "unacceptable".
Recently Ms Reding also criticised French deportations of Roma (Gypsies).
German Chancellor Angela Merkel says she will urge other European leaders to accept the need for treaty change at an EU summit in Brussels on Thursday.
She told the German parliament's lower house, the Bundestag, that unsustainable debts posed the biggest threat to the eurozone.
Shaken by Greece
The treaty change would bring in sanctions for countries overshooting the maximum debt level allowed under the EU's Stability and Growth Pact (SGP) - 60% of gross domestic product.
The idea is to have an automatic mechanism enshrined in the Lisbon Treaty that would prevent any repetition of this year's Greek debt crisis.
The sanctions would be tightened progressively, if a country failed to address its debt problems within months.
The Franco-German agreement reached in the French resort of Deauville on 18 October says that a serious violation of the EU monetary rules would trigger "suspension of the voting rights of the member state concerned".
Greece's budget woes undermined confidence in the euro, threatening the economic stability of other eurozone countries languishing with debt problems.
The EU created an emergency 440bn-euro (£386bn; $612bn) fund called the European Financial Stability Facility (EFSF) to protect any EU member states vulnerable to Greek-style liquidity problems.
But the EFSF only runs until 2013, so France and Germany are arguing for a permanent shield to protect the eurozone.
On Thursday, EU leaders will study proposals for a new "crisis mechanism", including sanctions, drawn up by a task force under European Council President Herman Van Rompuy.
If they back the plan, he may then be tasked with drafting corresponding treaty amendments.
Sceptical partners
Besides Ms Reding, some other EU politicians have reacted sceptically, or at least cautiously, to the treaty change idea.
The UK's Europe Minister David Lidington, quoted by Reuters news agency, said a permanent crisis resolution mechanism for the eurozone was desirable.
But the UK would study the detail of a treaty change proposal "very carefully", he said.
The UK negotiated an annex to the Lisbon Treaty - Protocol 15 - exempting it from budget rules that apply to countries that are either in, or planning to join, the eurozone. Denmark has a similar opt-out.
The EU spent eight tortuous years negotiating the Lisbon Treaty. It faced numerous hurdles, including two referendums in the Republic of Ireland.
A treaty change would require parliamentary approval in all 27 member states.
Luxembourg Foreign Minister Jean Asselborn warned "there is a risk that we will be plunged back into months and years of navel-gazing".
And his Belgian counterpart Steven Vanackere said "nobody around the table wants to open up the treaty and change it fundamentally".
Hard bargaining
An expert at the Centre for European Policy Studies, Piotr Kaczynski, said the treaty amendments would have to spell out exactly how the crisis mechanism would work and who would fund it.
Chancellor Merkel wants the banks to play a bigger role in any future bail-out, as having German taxpayers foot the bill for Greece proved very unpopular at home.
According to Mr Kaczynski, the treaty changes under discussion "will be no more than three paragraphs".
But the idea of suspending a country's voting rights at EU ministerial meetings is "politically dangerous", he told the BBC.
It could be interpreted as a transfer of power to Brussels, in which case some countries, such as Ireland, might want to hold a referendum.
Less contentious treaty changes could be adopted by EU leaders - unanimously - without a special EU conference or national referendums, he said.
The UK government may make agreement to a treaty change conditional on a concession over the EU budget, he said. The UK is determined to keep its budget rebate and has rejected the European Parliament's call for a 6% increase in the 2011 budget.