Russian legal official tried for rape of three girls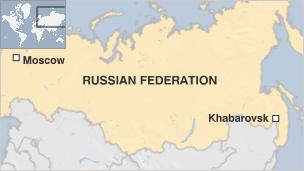 A former Russian legal official has gone on trial for the rape of three under-age girls in a case which raised fears of a cover-up.
Viktor Basov, 29, was working as a deputy district prosecutor in Russia's far eastern Khabarovsk region when he was arrested in December.
He denied raping the girls, one aged 14 and the others 15, one after the other.
The regional prosecutor shut the case within hours, only for federal prosecutors to reinstate it.
Mr Basov went on trial in Khabarovsk on Wednesday on charges of raping and sexually assaulting all three girls, first inside his car, then again inside his flat.
Alerted by the parents of the girls, police had arrested Mr Basov hours after he allegedly committed his crimes on Sunday 6 December, Russian media report.
He was released on 7 December when regional prosecutor Vitaly Kaplunov ruled the launching of the case to have been "unlawful, unfounded, unmotivated and premature", and closed it.
An official at the federal prosecutors' office, Konstantin Lysenko, told Russia's Kommersant newspaper that Mr Basov had not denied having sex with the three girls, but insisted they had not acted against their will.
Investigators said they would appeal against the regional prosecutor's decision, which was condemned in sections of the Russian press.
As indignation mounted over the decision to drop Mr Basov's case, regional politicians called for a full investigation.
On 17 December, deputy chief federal prosecutor Viktor Grin overturned the decision of Mr Kaplunov and proceedings against the former deputy prosecutor resumed.
Related Internet Links
The BBC is not responsible for the content of external sites.