An Oktoberfest view of German identity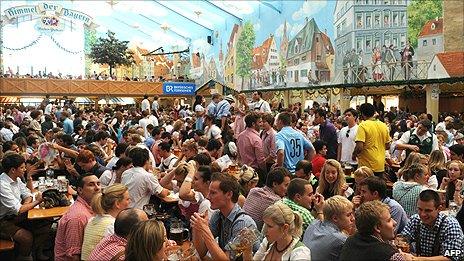 The annual Oktoberfest celebrating Bavarian traditions attracts people from all over the world but are all Germans happy with this view of their country?
Blue skies and fluffy clouds - Munich presents a chocolate-box image of itself.
There is a sense of excitement in the air. It is Saturday morning in mid-September and all over the city thousands of people in traditional alpine costumes are on the move, in their deerskin breeches (lederhosen) for the men and the maiden-like dirndls for the women.
For the next 17 days, Munich celebrates the Oktoberfest, the largest folk festival in the world.
Inside one of the beer tents, there is that chocolate-box image again.
The canopy that spans an area the size of a football pitch conjures up a world of the Alpine bliss that is so familiar from The Sound of Music.
Underneath, some 10,000 people sit and drink the extra-strong Oktoberfest beer from enormous one-litre glass mugs and listen to the tunes of the brass band that plays marches and waltzes.
"We come here to drink beer with thousands of other people in a tent," says one reveller from Australia. "The German people - whether they are young or old - are all of the same mindset. The music comes on and everyone's up having a beer and having fun. We don't have this at home."
It is all so very familiar to me.
I was here before. Eighteen years ago, I had a highly lucrative job here selling cigarettes to the heaving crowds in one of 14 beer tents.
It was a weird experience. Coming from the northern city of Hamburg, I grew up not only without Bavarian cultural icons like lederhosen and dirndls, but in fact without any great sense of a local tradition.
So I've come back to clink glasses with the Bavarians and to get to the bottom of the Oktoberfest and Bavarian identity.
This year though, the party is even bigger than usual as the festival celebrates its 200th anniversary.
As people queue up to get on the Ferris wheel or one of the countless white-knuckle rides that exert impossible G-forces on you, the 14 beer tents are packed to the rafters.
Every year, some six million people from all over the world come here to indulge in Bavarian fantasies.
Tourists from India, Japan and over the Americas travel to Munich to put on lederhosen and dirndls and join in the fun.
It has been replicated countless times. No wonder then that an easily exportable vision of a culture has come to represent Germany as a whole in many parts of the world.
"As far as I know, this is how all Germans are," says one jolly reveller from London.
Stereotyping all Germans as Bavarians is more than a little irritating to some.
A fellow Hamburger, Torsten Reimers, says, "We are all annoyed that we are recognised as Bavarians abroad, that everyone - in the US or wherever - asks you about your lederhosen."
But then Torsten wears the breeches himself, strictly for the occasion of course. "It's fancy dress," he admits, "and it's great fun."
But for Bavarians, of course. this isn't fancy dress and there is no irony in the proud display of their distinct culture.
As German historian Robert Gerwarth from University College Dublin explains: "The Bavarian free state has always had a very strong sense of identity that is separate in some ways from German identity.
"In a globalised world, people begin to re-identify certain local traditions that they can celebrate so they can set themselves apart from others."
And the Bavarians certainly have a lot to be proud of.
Munich boasts one of the wealthiest economies in Germany. The Oktoberfest itself brings in over a billion euros (£870m) into the coffers.
But as well as being a city deeply rooted in tradition, Munich is home to high-tech giants such as BMW, Audi, Siemens and Allianz Insurance.
Bavaria has managed to combine the chocolate box-image with a thoroughly modern economy. A phenomenon that is known as "laptop and Lederhosen".
As the afternoon wears on, the atmosphere in the tents changes.
The brass bands change their tunes and, as they play pop music, people get up on to the benches and thousands sing along at the top of their voices.
It is time to make a choice. Leave them to their drunken chants, or order a beer.
You can listen to John F Jungclaussen's programme Oktoberfest! on Saturday 30 October at 1030 BST on BBC Radio 4. It will also be available on the BBC iPlayer