Russia brokers Nagorno-Karabakh prisoner-swap deal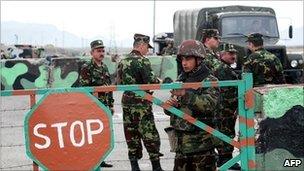 The ex-Soviet republics of Azerbaijan and Armenia have agreed to swap prisoners captured during fighting in the disputed territory of Nagorno-Karabakh.
The deal was agreed at a meeting hosted by Russian President Dmitry Medvedev in the city of Astrakhan.
Mr Medvedev said the discussions had also made progress towards a framework for peace in Nagorno-Karabakh.
The conflict between Armenia and Azerbaijan erupted almost 20 years ago.
Skirmishes have continued intermittently since a ceasefire in 1994.
Mr Medvedev said the prisoner swap tackled one of the "small but vital" issues surrounding the dispute.
"Russia will continue its efforts. I believe a result is reachable. It inspires a somewhat moderate optimism, but the bulk of work is still ahead," said Mr Medvedev.
The number of prisoners is reportedly small, perhaps fewer than 10 on each side, but "it is not the quantity that matters, it is important that people agreed to that," according to a Kremlin spokesman quoted by the AFP news agency.
Fighting broke out in the late 1980s as the Soviet Union headed towards collapse, with ethnic Armenians taking control of Nagorno-Karabakh and a land corridor linking it to Armenia.