EU leaders strive for deal on budget discipline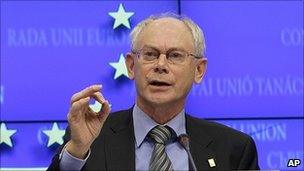 European leaders have begun talks in Brussels amid pressure to rein in the EU budget and set up a mechanism to avert future debt crises.
While next year's EU budget is not formally on the agenda, the UK has been pressing other states to reject a 5.9% rise voted for by MEPs.
Such a rise would be "completely unacceptable", UK Prime Minister David Cameron said on arrival.
There is also discord over a Franco-German plan for tackling debt.
The plan includes a controversial proposal to temporarily strip repeat overspenders such as Greece of voting rights at EU ministerial meetings.
Mr Cameron argues that the EU should set an example of budget prudence at a time of austerity, as national budgets are cut back.
He wants a budget freeze, rather than a 5.9% increase, but EU leaders are more likely to agree on a rise of about 2.9%. A deal would still have to be hammered out with the European Parliament.
So far 10 leaders have backed Mr Cameron in rejecting the 5.9% rise, according to European Parliament President Jerzy Buzek, who attended talks with them.
"But 10 people does not mean that this is the majority of the [EU] Council," he added.
The official focus of the two-day EU summit is action to prevent new crises in the eurozone.
The Franco-German suggestion for a crisis resolution mechanism would mean rewriting part of the EU's Lisbon Treaty, which was itself only adopted after eight years of tortuous negotiations.
The measures are intended to prevent contagion spreading among eurozone economies should there be another major debt crisis in one of the weaker members.
"There will be a hot discussion on treaty change," one unnamed senior EU diplomat told Reuters news agency.
It has been announced that French President Nicolas Sarkozy will visit London on Tuesday for a summit with Mr Cameron on defence and the economy.
German Chancellor Angela Merkel is due to have talks with the British prime minister at his country retreat of Chequers on Saturday.
The UK says a mechanism to ensure stability in the eurozone is desirable - and that the planned sanctions would not apply to the UK. But all 27 member states' budgets will come under close scrutiny in a "peer review" process.
The President of the European Council, Herman Van Rompuy, said: "Last spring we took courageous decisions, we won the battle of the euro.
"Today we show we can draw the lessons of the crisis."
The Deauville deal envisages, on the one hand, a permanent financial rescue fund and, on the other, progressive sanctions on countries which overshoot the maximum debt level allowed under the EU's Stability and Growth Pact, which is 60% of GDP.
European Commission President Manuel Barroso said the idea of withdrawing voting rights was "unacceptable" and would never be accepted by all 27 EU governments.
In the German parliament on Wednesday Mrs Merkel insisted that the Deauville deal served the interests of the whole EU.
"We need a new, robust framework," she said. "It must be legally watertight and this will happen only with a change of the treaty."
Sweden's Prime Minister Fredrik Reinfeldt said a small treaty change would be acceptable, "because everyone understands if this is to be strong and workable we need Germany inside".
Finnish Prime Minister Mari Kiviniemi also expressed support for the Franco-German initiative.
"The euro area needs a credible permanent crisis mechanism to ensure the financial stability of the euro area as a whole," she argued.
The BBC's diplomatic correspondent Jonathan Marcus says a revision of Lisbon would still spell major domestic political problems in many EU states, with referendums or embarrassing parliamentary votes.
The likely outcome is that Mr Van Rompuy will be sent away to explore how some kind of compromise might be stitched together, our correspondent says.
"A personal mission would be the best solution possible to find a consensus formula that would avoid a debate that would reopen old wounds," said one senior diplomat, quoted by the AFP news agency.
Related Internet Links
The BBC is not responsible for the content of external sites.