Uefa to sue Cypriot over Euro 2012 corruption claim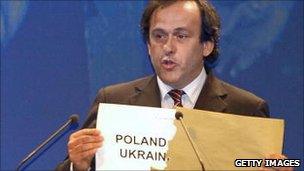 European football's governing body, Uefa, says it is taking legal action in response to allegations of corruption in the bidding race for Euro 2012.
Spyros Marangos, a former treasurer of the Cyprus Football Association, claimed this week that money had changed hands before the championship was handed to Poland and Ukraine.
He was told to provide evidence within two days to back up his claims.
But, according to Uefa, Mr Marangos had complained that was too short notice.
His lawyers told the BBC on Monday that Mr Marangos had tried for the past two years to draw the football body's attention to the allegations for which he had witnesses.
A meeting with the head of Uefa's disciplinary committee had been planned in August, but cancelled by Uefa four days beforehand, they said.
The allegations revolve around the bidding process for the tournament in 2007, which Poland and Ukraine won by defeating Italy in a vote by members of Uefa's executive committee.
"We are in the process of opening legal proceedings against him to protect the corporate image of Uefa and also to force his hand to show us what evidence he has," Uefa spokesman Rob Faulkner told Reuters news agency.
Officials in Poland and Ukraine have rejected the allegations and the Italian Football Federation has said it has full confidence in the sport's European governing body.
Related Internet Links
The BBC is not responsible for the content of external sites.