Irish police prepare files over 'reckless bank loans'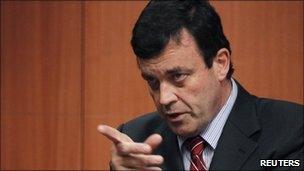 The Irish finance minister has said files are being prepared by police for submission to the DPP, over reckless lending by banks.
Speaking during a two-day debate on the economy in the Irish parliament, Brian Lenihan said reckless lending was the core problem in the Republic's banks.
Leo Varadkar of the opposition Fine Gael earlier said top banking figures should be arrested and prosecuted.
He claimed they had "done more damage to the economy than the IRA".
The Fine Gael communications and energy spokesman said the bankers must be treated as subversives.
The debate also featured attacks from Fine Gael on the workings of parliament and the government's desire for consensus.
On Wednesday night, the Cabinet held another discussion on the budget, and on the four-year economic framework due to be published next month.
Opposition deputies are anxious to discover exactly how much the Government is aiming to cut from spending, or raise in extra taxation, in December's Budget.
Related Internet Links
The BBC is not responsible for the content of external sites.