France back to work as protest movement gets 'fatigue'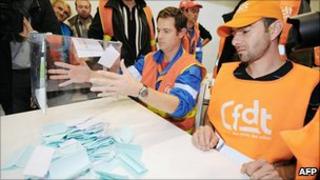 Many people who were on strike against French pension reform plans have returned to work.
The last striking oil refinery employees voted to end their strike on Friday, a day after the latest nationwide protests brought only half previous numbers out on to the streets.
Parliament has already approved plans to raise the minimum retirement age from 60 to 62.
Unions still plan at least one more day of action on 6 November.
On Thursday, six of France's 12 refineries were still suffering industrial action. Now all are back in operation.
The Donges refinery in northwest France was the first to go on strike on 12 October and was the last where unions decided to return to work on Friday.
Dimitri Guiller, a union official there said: "Everyone is proud of the movement... It's a pride that the government can't take away from us."
Some refinery employees returning to work had nothing to do because of a lack of crude.
Around 80 oil tankers have been waiting off the southern French coast for the last month because dock workers at the key oil terminal at Fos-Lavera near Marseilles have also been on strike.
They, too, voted to go back to work on Friday.
President Nicolas Sarkozy's push to stem a pension shortfall by increasing the minimum retirement age from 60 to 62 sparked months of protests.
But Thursday's day of action brought fewer people on to the streets than on previous occasions, suggesting the movement is flagging.
Force Ouvriere union leader Jean-Claude Mailly conceded that the movement was showing "a little fatigue".
But opposition to the pension changes is not over.
CFDT union head Francois Chereque said unions would meet on 4 November to decide what to do beyond the 6 November day of action.
Aides to President Sarkozy say he intends to sign the pensions bill into law on or around 15 November.