French bin lorries 'snail up' A75 motorway in protest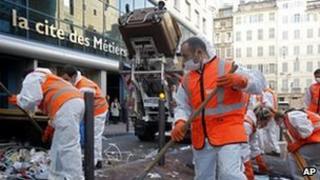 A fleet of refuse lorries have snarled up traffic on a motorway in France's central Auvergne region as part of protests against pension reform.
Members of the Upper Loire waste services' trade union drove 16 lorries down the A75 motorway near Clermont-Ferrand at 40km/h (25mph) as part of a "snail operation".
The protest drive caused a traffic jam 4km long, police said.
French MPs voted to raise the pension age by two years this week.
Waste collectors in the southern city of Marseille were at the forefront of industrial action in the weeks before the vote.
"We want to protest against the reform and show our solidarity with our colleagues in Marseille who are overloaded with work after two weeks on strike," Jean-Luc Morin, the local union leader in Upper Loire, told AFP news agency.
The bin lorries were due to travel about 30km on their protest route, which affected traffic between the cities of Clermont-Ferrand and Montpellier.
Some 50 waste workers were on the convoy which they formed at the end of their day's collection, Mr Morin added.
Marseille's waste collectors went back to work on Tuesday.
The bill to raise the minimum retirement age from 60 to 62 has still to overcome a constitutional court challenge before President Nicolas Sarkozy can sign it off next month.