Irish foreign minister Micheal Martin's daughter dies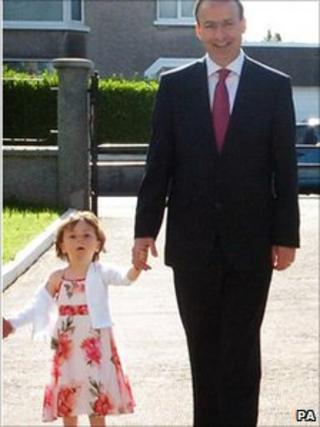 The youngest daughter of Irish Minister for Foreign Affairs Micheal Martin has died in hospital in London.
Mr Martin, along with his wife Mary and their family, were at seven-year-old Leana's bedside at Great Ormond Street Hospital when she died.
Leana was transferred from a Dublin hospital earlier this week. It is believed she had a heart condition.
In a statement, the Martin family said they were "heartbroken at the loss of their darling Leana".
"She was a beautiful light in our lives," they added.
Mr Martin and his wife have one other daughter and two sons.
Northern Ireland's first and deputy first minister, Peter Robinson and Martin McGuinness, said in a statement they were saddened by the news.
"We wish to express our heartfelt sympathies to Micheal, his wife Mary and the entire Martin family at what must be an exceptionally difficult time for them all," the statement said.
Irish President Mary McAleese said: "Leana's death is an unbearable loss for her parents Micheal and Mary, her brothers and sister and the wider Martin clan," she said.
"I know the people of Ireland will feel immense sympathy for the Martin family as they face this devastating bereavement."