Kurdish PKK denies Istanbul bomb, extends 'truce'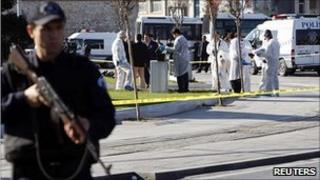 The armed Kurdish rebel group, the PKK, has denied responsibility for a suicide bomb attack that left 32 people injured in Istanbul on Sunday.
The group has been at the centre of media speculation over the blast.
But in a statement through a Kurdish news agency, the PKK rejected that and also said it was extending a ceasefire until next year's elections.
The government has said it is too soon to conclude which group was behind the attack.
Islamist and extreme left-wing groups have also carried out attacks in Istanbul in the past.
A PKK statement carried by the Firat news agency said: "We are in no way involved in this attack.
"It is not possible for us to carry out such an action at a time when our movement has decided to extend a truce process," the statement said.
It announced it would be prolonging its ceasefire - which was called several months ago and was due to expire only hours after the Istanbul bombing - until elections next year, "in order to impose a democratic solution process and ensure that the parliamentary elections in Turkey take place in a healthy environment".
Elections are expected to take place about June 2011.
Splinter groups
Police say Sunday's bomb was detonated by a young, male suicide bomber, but he has not been identified and his motives are still unclear.
He detonated his bomb after trying to board a police bus in Taksim Square. Fifteen police were among those injured. But officials said on Monday that none of the injuries were life-threatening.
The government has warned people not to rush to judgement about the culprits.
Nevertheless, Turkish newspapers suggested the PKK was the most likely suspect. One said the bomber used A4 explosives - the same as that found recently in the possession of PKK militants.
There are other Kurdish splinter groups that might have been behind the attack, says the BBC's Jonathan Head in Istanbul.
One, known as the Kurdish Freedom Falcons, admitted detonating a roadside bomb in June that killed five people on an army bus.
The PKK says it does not control these groups - but the government believes it does, our correspondent says.
The commander of the military wing of the PKK said last week, from his base in the mountains bordering Iraq, that the group would henceforth seek to avoid civilian casualties.
The Turkish government has been exploring ways to solve the Kurdish conflict, and officials have been talking to the imprisoned PKK leader Abdullah Ocalan.
But those talks have been deadlocked and it is possible this bombing was intended as a reminder of the cost of not reaching a deal, our correspondent says.
More than 40,000 people have been killed since the PKK took up arms against the Turkish government in 1984, fighting for Kurdish autonomy in the south-east of Turkey.